Done with my assignments! Yay! Now I can read Chiara's recs see what I can do about my drafts for Phil Spec Fic 4 and Phil Graph/Fiction Awards. *grits teeth* I'm facing a veritable wall though.

~ * ~

Thanks to Jouie's flyers, which I printed, pasted and pinked until three hours past sunrise two days ago, my bio-clock is now fixed again. I've been falling asleep with no fuss around 11 pm and then I wake up around 8.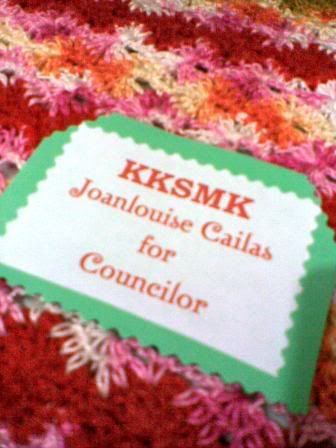 Recognize the font?

Twilight!

~ * ~

Diaries: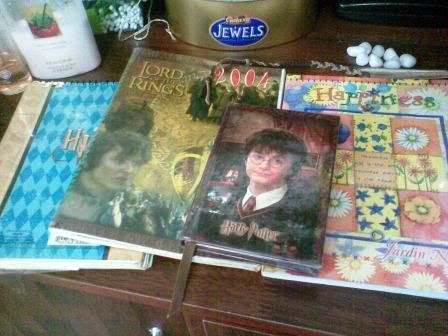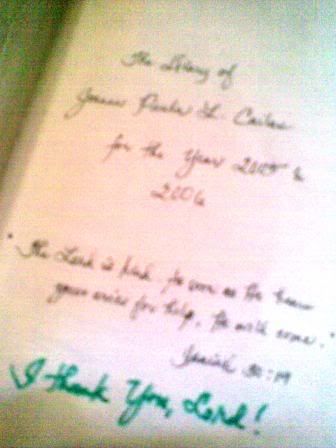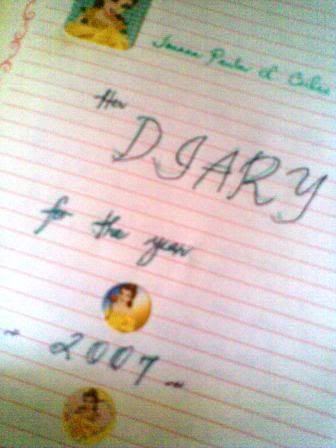 (what did Jouie do to my last diary?! Haha.)



These were the days when I wrote down my ire as soon as it was invoked. Haven't done that much here in LJ. My bad mood's past by the time I log on again.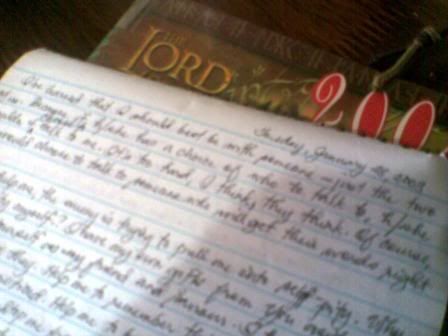 "Tuesday, January 28, 2003... if he/she has a choice of who to talk to, he/she wouldn't choose to talk to me. It's too hard, I think, they think. Of course they would choose to talk to someone who will get their words right away."

Ooh, drama!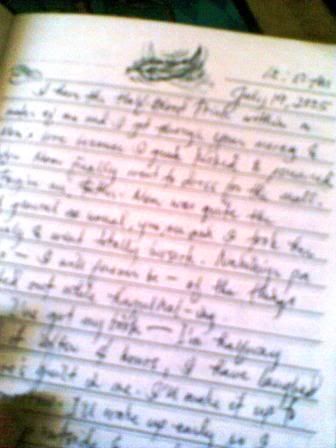 "July 19, 2005. I have the Half-Blood Prince within a meter of me and I got through Your mercy and Mom's love because I kicked and screamed before Mom finally went to dress for the mall... Forgive me, Father. Mom was quite the stiff General as usual you see and I took her seriously (that she's not going to buy me the book today) and went totally berserk."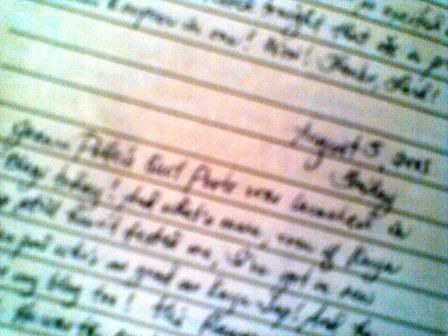 "August 5, 2005. Joanna Potter's Owl Posts was launched in G-Blogs today! And what's more, even if Kuya Jap still hasn't texted me, I've got a new Potter pal who's as good as Kuya Jap! And he loves my blog, too!"

Hmm, Kuya (our term of respect for an older guy) Japhet is in Vietnam. Wonder how he is now.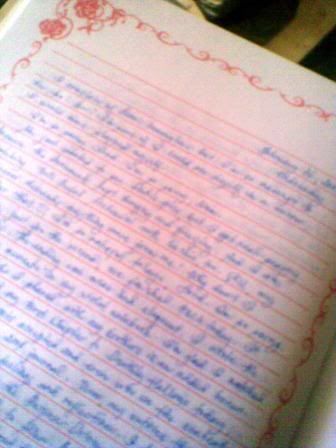 "February 14. 2007. I complain of Mom's kasungitan (bad temper) but I'm so masungit to her, too! Grr! I'm sure if I could see myself (how I treat her) in a mirror, I would have slapped myself.

I'm so sorry, Lord, I'm so sorry, Mom.

... Anyway, just for the record, we finished FMA (Full Metal Alchemist) today. It was fantastic. The ending was wise and eloquent. I wrote the details down as memento in my violet notebook (WHERE ARE YOU, VIOLET NOTEBOOK??). I'm glad I watched it. And the laugh I shared with my brothers is an added bonus.

Also, I finished my first chapter to The Deathly Hallows today, oohaha! (Honestly, did I write that down?) I hope it gets accepted and even win in the contest."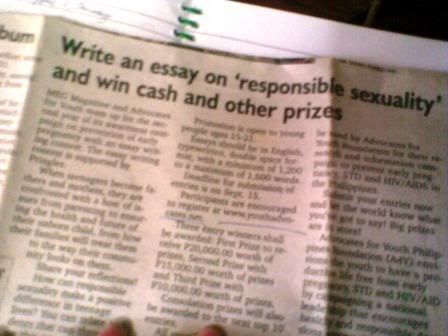 "September 13, 2005. Inserted."

"December 5, 2005, Monday. Oh Lord! THank you! This afternoon, while I was about to lay down for siesta, I received a text message saying, Hi Joanna, can u call us at... youth advocates essay contest...

My gosh!!!

I shook with excitement and woke Mom from slumber. She called the number in our landline and... TADAN!

I'm in the Top 13 finalists of the Youth Advocates essay contest! I was invited to G3 on Saturday for the awarding Ceremonies! Only then and there will the plum 3 be announced..."


~ * ~

And here's my April Fool's joke last year, Chiara. *ducks from Sherly and Allen*.

See, my friends and I don't live close together. So the prank I dreamed up fit like a dream. LOL.

Now, I'm not really a prankster, nor do I like lying to/fooling people. Maybe the novelty of what I did is what doubled my fun.

I told them:
~ That I'm getting married in June.
~ That Mr B (my supposed fiance) and I just got a kick out of keeping everyone out of the secret, except our parents.
~ That I've always wanted to reveal the secret already and introduce him to them, but Mr B just always had another engagement when my friends and I have a get-together.
~ That the engagement is a spur-of-the-moment thing, brought about by Mr B leaving to work in California.
~ That the ring on my left finger (which I've been wearing for so long, and is actually a 16th bday gift from my Dad) is actually Mr B's pledge way back in 2004 (My friends and I go back to 2005).

LOL. My prank was well-propped.

Here are their reactions, which I've written down for posterity:



(Notes: My friends call me 'Pauie', 'Pauietot', 'Mare', 'Iniina')

ALLEN: Huwaaaat? Cno yon? (What? Who's that?)

ARTHUR: Hwow! Congrats, wish you all the best.

ALLEN: Kelan mo pa xa nakilala? Kelan pa naging kayo? Kelan xa nagpropose? (When did you meet him? Since when were you together? When did he propose?)
Wat did your mom say? Are you pregnant?

ARTHUR: I'm happy for you and your would-be-hubby.

ALLEN: Oh my. I can't believe you're eventually having babies. Ako ninong sa panganay ha (I'll be godfather to the firstborn). And marylaine. Haha! Good luck, pauiepot! U have to show me the pic of that guy. U post sa fs ha?

LYSH: OMG, di nga? (Really?) Waha. Dat's gr8! I'm so hapi 4 u! Wala nga lang ako much load now, haha (I don't have much prepaid load now). In fairness, di ko pansin yung (I din't notice the ring) ring, ehe.

ALLEN: Ay naku, kala ko ba di ka niya type? Galing mo talaga magtago. (I thought he doesn't notice you? You're so great at concealing things.)

ALLEN: Ayaw pa din mag-sink in pauiepot. Pag nalaman ko na prank mo to, lagot ka! April Fool's bukas! (It still won't sink in, Pauiepot. When I discover this is a prank, beware! April Fool's tomorrow!)

RIZ: Halo, bruja! Uhm, Olala! Nagulat ako sa gudnews mo. (I'm surprised at your good news!) Congrats! (mwah) Sino kaya si groom? (Who's the groom) Hmmm. God bless both of you. Gusto ko baby boy ha (I want a baby boy!). Hehe!

ROLYDEE: Mare! How are you na? You're engaged? Really? Really? … Oh my! Dunno what to say! Congrats, bru! Grabeh! Kwento ka pa, mare! (Unbelievable! Tell me more!) Go go! I'm hapi for you! So!

ROLYDEE: Kunin mo kong abay? (I'm a bridesmaid?) Hah! Talaga, mare, grabeh! (Really?)Super gulat ako (I was so surprised) I thought story lang from book… Kwento ka pa! Sino ba tong lucky guy na to? (Who is this lucky guy?)

ROLYDEE: DI NGA??? (No, really?) My gosh, after all this time, ang tagal mo tinago yan secret moh! (You kept this secret for so long!)
Huhu, naiyak naman ako… (I'm crying) I'm so happy for you, anong nafifeel mo mare? Di ako makapaniwala. (How do you feel? I can't believe it)

ROLYDEE: Kala ko uunahan kitang mag-asawa… ganun cguro talaga, nauuna matanda, piz! Mare, I can't believe it. Samantala non, tuwa ka na makita mo lang siya, tas ngayon, ikakasal ka na! iyak na ako, huhu (I thought I'll be first to marry. Maybe it's really this way, the elder goes first. Peace!... Before, you used to be so happy just to see him, and now you're marrying him! I'll cry!)

KEN: Wow! June bride pa.. where will he be working ba? Sabay na dun honeymoon? Hehe! (Where will he be working? And you'll go on your honeymoon when he leaves for work?)
Aww, I'm excited already… I wish I could see you guys at your wedding day huhu

Pre-REVEAL (2nd thoughts. I told them I'm having 2nd thoughts. I feel like I finagled Mr B into this) :

LYSH: I understand you. Biglaan nga kasi. (It's so sudden) Think about it., Dapat ready ka na. (You have to really ready for it.)

LYSH: Ya, mejo parang assurance lang. (It's like you're only marrying him for a guarantee of his continued loyalty.) Pero ewan ko. (I don't know.) Di naman siguro ganun iisipin nila. Pauie, mas bata ako sayo, hehe. (Maybe they won't think that. Pauie, I'm younger than you.)

ALLEN : Pero di naman yun dahilan para umayaw ka kung gusto mo. (But it's not a reason to back off from the wedding if you really want it.) Ganito nalang, ask him if gusto rin niya talaga. (Why not just ask him if he wants the wedding, too.)

(After my thanks… Allen says: No problem!

Me: Talaga? Talagang no prob? (Really? No problem at all?)

ALLEN: Siyempre (of course). We're friends. You can always ask me for help.

Me: Aww. And I can always prank you?

ALLEN: Baka nakakalimutan mo mas magaling ako magprank kesa sayo. (You're forgetting I'm more notorious at pranks than you.)

Me: You didn't do anything yet. Ako, tapos na. (I've done my, prank already.)

ALLEN: Haha, buwisit ka talaga. (Haha, you're a nuisance.) (Not yet getting it, hehe)

LYSH: Two weeks lang? Sandali naman… (Referring to our honeymoon: Two weeks only? That's a short time.) Nga pala, tapos na pala American idol pag punta niyo doon. Hehe, joke lang. (By the way, American Idol's finished by the time you're there. Hehe. Just joking!)

Me: Me, too. Joke lang! (Just joking!)

LYSH: Ganun, hihingi sana kasi ako pic ni david archuleta… bruja ka. (Really... I was about to ask you to get me a photo of David Archuleta... you witch.) (Not yet getting it either, haha!)

After REVEAL:

GIANNE: Haha! Cool! Love it! Haha! No wonder RB had suddenly vanished.

SANDY: Mare! Kaw talaga! But you and [Mr B], anu ba talaga? Argh! Lukreng… (What is it really between you and [Mr B]? Argh! Crazy!)

HAYCEE: Bruhilda ka talaga. Sabi na nga ba e. (You're really a hag. I thought so.)

ELI: Ha? Hay naku pau ! hahaha !

SANDY : Argh! Magdala ka ng [Mr B] sa picnic kundi lagot ka saken! (You better bring a Mr B on the picnic, or else!)

G: Haha! Nice one, pauie! Napaniwala mo ko! (You fooled me!)

ALLEN: Ano? Anu ba talaga? (What? What?)

ALLEN: Sabi ko na nga ba pauiepot e! Kahit kelan talaga! Humanda ka samen sa eb*! (I knew it! We'll get you on the eb. *eyeball- get-together)

ARTHUR : Wapak ! You really are a writer ! Hands down.

SANDY: Kaw talaga. Nakwento ko sa sis ko, pati siya naloko mo. Hahaha! (You! I told my sister. You fooled her, too.)

LYSH: (OP) Congrats to pauie for a well-planned joke… I even told my parents about it! I'm not stupid, but when my friends say so, I believe it… Luv u, guys.

KEN: You sly devil, you.

ALLEN: Ayan, lagot ka, mukhang napikon sherly. Sinabi ko pa naman kay kuya, haha. (There, you're in trouble. Sherly seems offended. I even told my brother, haha!)

ARTHUR: Yup, convincing that I'm planning now na batukan ka, kung pwede lang (I'm planning to hit you upside the head). Hehe. You're great. It's carefully planned. Langya! Hehe. Muntik na akong magbreakdown (I almost broke down!).

LYSH: Haha, lumabas ka na pauie, napaliligiran ka na namin.. ang galing mo, mwah ! (Get out, Pauie. You're surrounded! You did great!)

LYSH : Naisip ko din yun kagabi, kasi sabi mo nung isang gabi, 'gaganti me'.. Pero di ako makapaniwala na naniwala ako. (I did think about it last night, because you said one time that you'll get revenge. I can't believe you fooled me.)

MARYNOL : sabi na nga ba e ! Adik ka talaga, iniina, pinaexcite mo pa man din ako (I knew it! You're an addict. You excited me for nothing!)

SANDY: Ayun, gulat na gulat din, kagaya ko.. Bruja ka talaga. Haha. Sinabi din ni allen kay Wilson. (There she was, also very shocked like me. You're a hag. Haha! Allen also told Wilson)

ROLYDEE: Today I learned that someone can fool you kahit hindi april 1. Mananabunot ako, grr! (Today I learned that someone can fool you even though it's not yet April 1. I'm going to scalp someone. Grr!)

LYSH: Pero lam mo ba, natuwa parents ko nung sinabi ko yun. Panu ko sasabihin na joke lang? (But do you know, my parents were delighted when I told them. How will I tell them it's only a joke?)

ROLYDEE: Sabi ni inang, ang nanloloko daw, di makakapag-asawa! Aruy! (Grandma said, people who fool others won't get married at all! Ouch!)

LYSH: Haha… wooh. Pinapili pa talaga ako kung maganda yung silvery purple and red na motif… Hoo, makanood na nga lang dito. (I was even asked if a silvery-purple and red motif is nice. Hoo, I'll just watch tv now.)

LYSH: Kei lang.. nakakatuwa, haha! Mwah! Twice mo ako najoke. Pero may pahiwatig ka ng joke sa text diba. Napansin ko yun. Kaso naniwala pa rin ako hehe. (It's ok. It was funny. Haha! You fooled me twice! But you did give some hints, I notice now. But you still fooled me, hehe)

LYSH: Yung California chuchu… chorva mo ah. Nakadali ka… Tingnan natin next year if magawa mo uli. (The California stuff... You really nailed us. Let's see if you can do this again next year)

MARYNOL: Balang araw, makakapag-abay din ako sa kasal mo. (Someday, I will be a bridesmaid on your wedding)

LYSH: hehe, adik ka e. Sounds real talaga. (You're an addict.)

ALLEN: Ambisyosa ka kasi masyado! Haha! (You're so delusional)

LYSH: Wala na daw unli si pauie. Wala daw gantihan sa picnic ! Pede ba yun, guys ?
Haha ! Mumai, sana daw patawarin mo siya. (Pauie's unlimited texting has expired. She says there must be no retaliation on the picnic! Is that possible, guys? Rolydee, Pauie says please forgive her)

ROLYDEE: O sige na nga, bati na tayo! Hmp! Pag nagbalita ka uli ng ganyan, dalawambuwan mo ko pipiliting maniwala! (Fine! We're fine. Hmp. But when you give me the same news again, it will take two months before I believe you.)

LYSH: Ansaya, nayari talaga kami.. Nice, cool! Itsura ko naman nung di ako maniwala diba.. Mukha akong ewan nun, hehe (So fun, we were nailed! Nice, cool! I was so incredulous at first, I must have looked silly, hehe)

LYN: Waah! Te pau! Now lang ako nagkaload ! Andaya. (I only got prepaid load now) Before I can even congratulate you and tell you how it made me so happy… and every word I planned to text… bigla na lang prank lang pala! (Suddenly, it's only a prank!) Weh, ate pau naman. Kaw talaga. Wah… I really 3x believed that. Kala ko you're getting married na. Tas now di ka na daw unli. Ang panget naman ng timing ko. (I really thought you're getting married! And now you're no longer on unlimited texting. My timing's so bad)

LYN: I love you ate pau. I've been so silent but you know what? I missed you so. Mwah. Kaw talaga. I really believed that na. Naku. Tas tatampo sana ako di ka nagkukuwento about your romances. (I was almost hurt because you didn't tell me about your romances) Naku. Geh, mommy ko. Goodnight. Sana next time, totoo na talaga. (I hope next time, it's real!) I'll be wishing for that. Labshoo.

~ * ~

I love journalling.