Yesh, where have I been? ^_^ Reading and writing and offline when not in communion with Q, that's all. The name's Bond. James B--
~ * ~
Don't you just love it when you 'discover' books? And even better, when you discover authors?
Sarah Dessen
has been winning awards while I was still mostly immersed in Harry Potter and the Classics, and because she/any of her books hasn't been featured in the local book magazine I contribute to, which is my only input about the publishing world aside from some genre blogs and plugs online, I've been unaware.
Now I'm very aware. I'll be collecting and looking out for her books.
I've read and relished two:
The Truth About Forever (2004)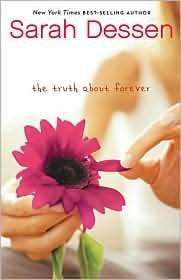 Just Listen (2006)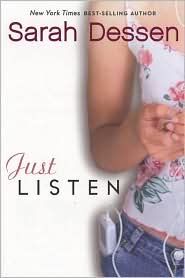 The latter is an eloquent account of the old adage, 'the truth shall set you free'. I looked it up and discovered it's been made into a movie already. And I don't wonder why, what with modeling, eating disorders, glass houses, your classic snooty high school clique queen and music in a smooth latte-like blend.
I liked
The Truth About Forever
better, though. I won't spoil, but see the following quotes:
"...there are no guarantees. Be alive."

"...it was okay not to fit in everywhere, as long as you did somewhere."
Unlike other YA writers I've encountered, Dessen doesn't use ultra-modern jargon non-Americans like me would need to look up in the slang dictionary. I liked that. And is this a trend? Protagonists that make you grit your teeth? LOL. Dessen's (in these two books, at least) are conflicted anti-heroines who need to see, and do make it to, the light. With help from their guy leads: to-die-for. A la Edward in their flawed perfection. But unlike Edward, they don't coddle. Oh, and unlike the Twilight books-- which, as I've been losing hair reiterating, are more
romance
than YA, more
romance
than fantasy adventure and is only being compared to HP because of its similarly huge fanbase, not because it's remotely the same, so tuck away your complaints and expectations (about there being no 'action' or 'theme' in the books/movie) if you don't know Barbara Cartland, Danielle Steele, Fern Michaels and the rest of them, please Merlin, I'm begging you--Sarah Dessen's YA is what I call 'real' YA, spotlighting growth, maturity, wisdom. So she's right there at the top along with Katherine Paterson, Lois Lowry, Louis Sachar and Jerry Spinelli in my list.
...And speaking of lovable guy leads, worthy of honorable mention is Rob in Meg Cabot's
Missing You
, the last book in her lesser-known Nancy Drew-with spunk 1-800-WHERE-R-U series (first published under nom-de-plume Jenny Carroll).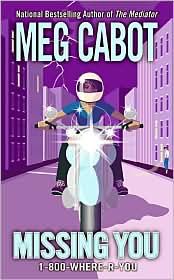 It could do with a better, less cartoony, more 'serious' cover to match its content.
~ * ~
I'm supposed to have been with Sherly today at the mall, but I had to cancel. And if I weren't recently steeped in good reads, I wouldn't be this unruffled about it.
Money-argument with my mom. When you live at home without needing allowance for school because you're not studying, with dishwashing as the only regular chore, you
will
be hard-up for money. Heh.
From here on to Sunday when our other friends have a big movie get-together planned in the city (Sherly will come, too, anyway), I'll have to be good. I'll clean the bathroom and I'll dust the living room.
For the movie and for acrylic paint.
~ * ~
And here's Jego (in one of his jealous reconnoiters of the fence, barking at the mutts outside), my no-fail anti-depressant aside from books.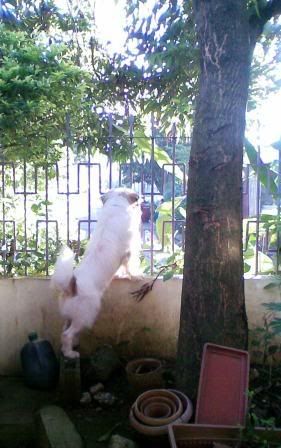 ~ * ~

Before last weekend, I've been doing at least four stories a day. I've received the first of what I'd call 'smile-mail'
(Thank you very much! I will fix those right away.)
and I've submitted my first problematic thingie to admin. LOL. The thing refuses to be stamped.
/scratches head.
~ * ~
I promise to un-neglect your LJ's after Sunday. Mwahugs. I miss your posts, you know! How much have I been missing? *tries not to think too much about it* I hope you're all doing well, lovies.