Three posts in one day. And then I'll be gone again anyway, humor me. *grins*
Last Sunday, November 30th: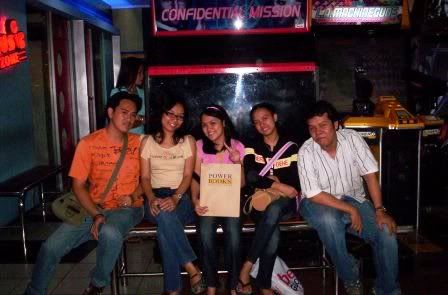 July, moi, Sherly (holding the latest issue of Read inside that envelope, heh), Tonks and Eli. By this time, Camille, Allen and Dea, Xandy and Dave had already left. I'll ask for the other pics from Xandy. This is the best we got from my digicam before the batt went kaput.
Twilight the movie was nice. I think I got spoiled too much from collecting all the publicity videos and photos, though. Because while Tonks and the others were holding their breath, I was muttering nonstop while in the cinema.
One mutter that made Dea and Camille get a fit of the giggles:
Ang tagal!
(It's taking so long!) - during the kiss. Did you count just how many seconds passed before they snogged? They exchanged carbon dioxide for about thirty seconds first.
I enjoyed it. Though I scoffed at that Apple. Heh.
I'll have to wait for the DVD. Can't critique without subtitles. Oi. But overall, I pat Catherine Hardwicke on the back affectionately.
It's been a lovely, lovely Sunday. I got to wear my customized blouse, we got the best seats in the cinema and we got in with plenty of time to settle before the movie started, I never lost at UNO (did I, Tonks?), it only rained when Josh and I were already snug inside the van on the way home, and then the rain stopped exactly when we arrived at our chapel's driveway!
Should have known it was the First Sunday of Advent. I'm glad I didn't skip Mass!
Thank you, Lord.
I trust He'll fix the hiccup in the horizon, too. Mom said Dad's company is shutting down in April. World crisis indeedy.
I'm so ensconced in my own happy little world I'm more than a little shaken with these reality checks... I've been on PM with Pooja checking on her and her family and friends in India... and then my Dad possibly losing his job.
But... note to self, it's still a beautiful world, as it's said in Desiderata.
I'll strive to be happy. Even the galaxy says so.
The moon, Jupiter and Venus. Last night, December 1st:
Isn't that the cutest? Hee.